Customer Reviews
5 star products
Excellent - obvious improvement in skin tone/appearance
11/15/2021
Danna

Ireland
Be sure to put this on your Christmas list
I don't know how I survived without Nyrah.My skin feels ten years younger.
11/15/2021
Aaron K.

United Kingdom
My skin has never felt so soft!
Received the bundle as a gift, brought them with me on holiday and my skin has never felt so soft! The cleanser felt like it was making my skin more supple, instead of drying it out like some other cleansers I've used. While the serums gave me a reason to actually pay attention to my face in the morning and before bed. I previously used No. 7 for years but will be changing to Nyrah from now on as the difference to be skin has been incredible. Going to make this the perfect gift for the important people in my life this Christmas!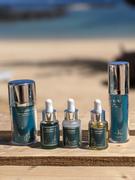 10/13/2021
Elizabeth

Ireland
Cleansing experience you don't want to end
Everything about this bundle feels high quality, from the products to themselves to the bottles and the packaging in which it comes. Can we take a moment to admire the peacock insert in the boxes? It's stunning. The directions on the cleanser start with "Take a moment..." and that was all the direction I needed with these products. All of these products are so hydrating and glide onto the skin like silk with gorgeous natural fragrances that don't overwhelm you. I didn't want to wash off the cleanser as the citrus smelled so refreshing - which made me actually cleanse my skin at the end of the day for the recommended amount of time! For the first time in a long time after cleansing I didn't feel as though my skin was tight, I wasn't rushing to get a serum on to combat the feeling of dehydration after cleansing. The products didn't disappear on my skin, I felt as though I could take the time to massage the product in and enjoy the luxurious process. I can't wait to see where Nyrah goes next..! I am already looking forward to trying the moisturiser, the only thing that wasn't included in this bundle!