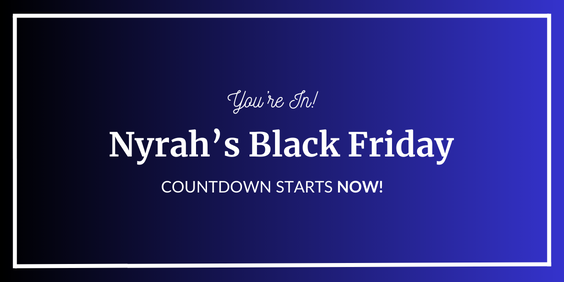 You're In - and the  Black Friday Countdown Now Begins!
(Giveaway update at the end)
We can't wait to show you what we have planned for the holiday season—beginning with our Black Friday Sale.
You'll be the first to know the moment this sale begins in our store so you can shop first for the best selection.
We're celebrating with…
Free Nyrah gifts, each time you shop a bundle.
We're giving you a free Nyrah gift each time you order a bundle during Black Friday. (That's free Nyrah products with every order—even if you order more than once!)
Huge savings on everything in our store.
Everything is on sale, from Undress to Absorb, you'll see our best discounts of 2023!
Be ready, because you'll get an email the moment this sale begins.
P.S - The link to our exclusive giveaway should be in your email inbox within the next 2 minutes. If you cannot see the email, check your promotions/spam folder and move the email to 'primary' so that you can receive the congratualations email if you're the lucky winner!
© Copyright. All rights reserved